In the Spotlight: Installation at IBP China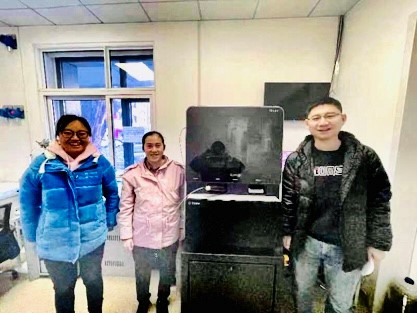 February 6, 2023. Our last shipment of December arrived safe and sound in January at the Institute of Biophysics, Chinese Academy of Sciences, Beijng (IBP-CAS) and the first succesful vitrifications have been achieved by the team. We are happy we can now wish the team of Professor of Structural Biology Fei Sun many more succesful vitrifications and research results with the VitroJet, after intensive Covid-19 restrictions. We also like to thank our local distributor Nanodim and our service team for every effort made towards success.
VitroJet at IBP, Institute of Biophysics in Beijng, Chinese Academy of Sciences (CAS).
In the image some members from the team of Professor Fei Sun.
From left to right: Boing Zhu, Xiaojun Huang, and Jianguo Zhang.
Is your team looking for fully automated, blot-and-plunge free cryo-EM sample preparation technology? Our Sales and Application team is happy to tell you more and provide a Quote.