First VitroJet in Switzerland at biotechnology company leadXpro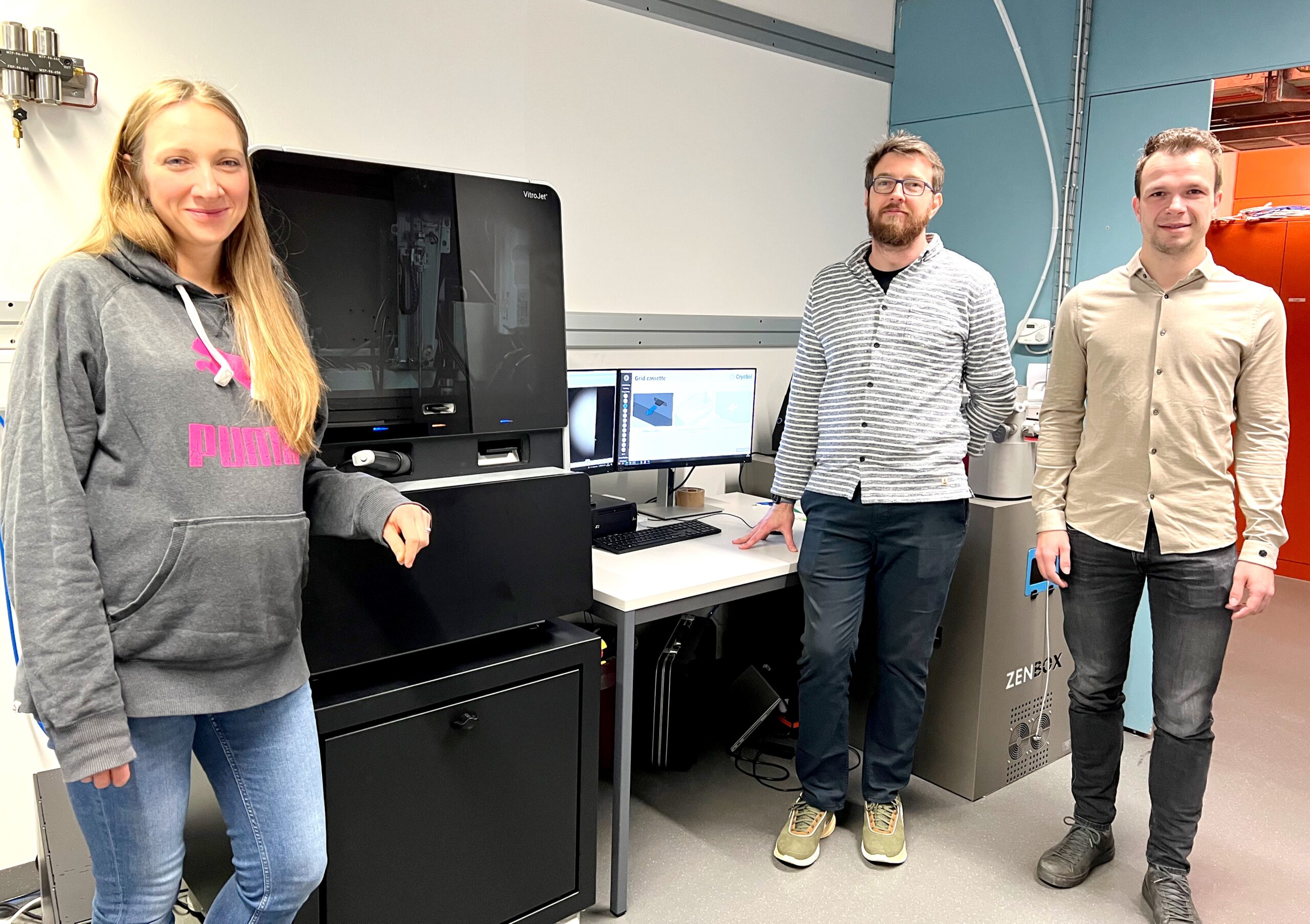 January 19, 2023. Weert (The Netherlands) & Villigen (Switzerland)
CryoSol-World announces today that biotechnology company leadXpro has extended its cryo-EM facility with the VitroJet sample preparation solution. The first in Switzerland, home of some of the world's best scientific institutions and pharmaceutical companies.
Ben Bormans, CEO at CryoSol-World: "We are very proud that the VitroJet is now part of the cryo-EM workflow of leadXpro, the world leading company in delivery of gene to membrane protein structures facilitating the design of novel medicines. It is exciting to work together with this knowledgeable customer and support them in their mission to solve membrane protein targets to enable new drug discoveries. Both parties expect that the blot-free pin printing and jet vitrification technology in the VitroJet will substantially reduce the time from gene to structure and will enable elucidating the EM structure of proteins that cannot be vitrified with current vitrification tools."
Michael Hennig, CEO and chairman at the board at leadXpro. "leadXpro AG is a biotechnology company working together with a growing number of pharmaceutical, biotech and academic partners. We focus on membrane protein drug targets such as GPCRs, ion channels and transporters for the discovery and optimization of next-generation medicines. leadXpro characterizes the interaction of small molecules and biotherapeutics with drug targets in a timely manner to impact the discovery of novel therapeutics. This is based on a unique platform for membrane protein expression, engineering, purification, application of biophysical methods and structure determination by X-ray and cryo-EM. We are confident that the VitroJet cryo-EM sample preparation solution will accelerate our structure-based drug discovery programs for membrane proteins."
Mathieu Botte, Head of Cryo-EM at leadXpro: "Cryo-EM sample preparation has been a time consuming and work intense process with many variables that are challenging to optimize. The ability of the VitroJet solution to reproduce samples in a more controlled, reproducible way, to set the parameters for ice thickness, to view and validate the samples real time offers a significant advantage compared to conventional technologies for grid freezing. We are very excited to work together with CryoSol-World to enhance the capabilities of the instrument for challenging membrane protein samples."
For more information
info@cryosol-world.com (www.cryosol-world.com) and /or info@leadxpro.com (www.leadxpro.com)
About CryoSol-World
CryoSol-World (CryoSol), founded in 2018, is an innovative high-tech company that aims to become the global leader in sample preparation technology for cryo-EM. Its headquarters is based in Weert, 10 minutes from Eindhoven, the high-tech cryo-EM hub in the Netherlands. CryoSol believes innovation in sample preparation technology is of vital importance for structural biologists to advance their cryo-electron microscopy (cryo-EM) research results. This is why our focus is on controlled and reproducible sample preparation solutions.
About leadXpro AG
leadXpro AG, founded in 2015 is a biotechnology company specialized in structure-based drug discovery for membrane proteins. Membrane proteins are the most promising targets for drug discovery, yet also the most challenging. To unlock these targets, we bring together specialized knowledge in protein science, pioneering technologies in structural biology and expertise in ligand design and characterization. leadXpro's research covers a range of membrane proteins, including GPCRs, ion channels, transporters and enzymes. leadXpro acts as a contract research organization for a growing number of pharmaceutical, biotechnology and academic partners.